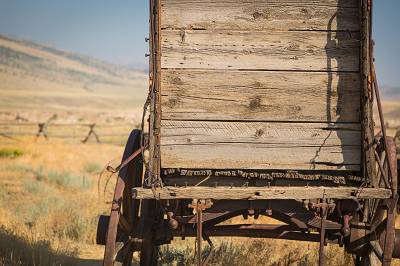 150 to 200 years ago, American pioneers envisioned a life of liberty and the prospect of catching their initial view of the Pacific Ocean. While some were enticed by the allure of mountains and new frontiers, others found the sense of liberation in the journey itself, traversing unfamiliar territories on horseback during the day and bedding down under the vast sky at night. For them, freedom meant constantly moving forward.
Our own quest for freedom started after growing up in Toronto.  We had already "gone west" to live in Northern Ontario and build our farm, living as self-sustaining a life as we could. But we weren't free. Tied to our land, we struggled under burdensome government regulations and taxes, and the realization that we would be unable to protect or defend it all should society collapse.
We dreamt of our future. It would be a better life, one in which we would be truly independent and self-sufficient, answering to no one. 
We would go to sea!
We would escape to another world. A world in which we could control our own destiny, as free as eagles soaring through the sky. We would sail with the wind and when that wasn't blowing, we would use solar energy stored in our battery bank. We would be our own self-contained municipality, with a water-maker to convert sea water to fresh, and high-tech communication and navigation systems. Best of all, we would have no government telling us what to do.
We listed our farm for sale. While waiting for a buyer we learned about sailing by watching YouTube videos, and reading books. Finally, we found our buyer and sold in November of 2015.
Having never sailed before, we needed a simple boat to learn on. We purchased a 38 foot Wildcat catamaran, and over the next two years learned to sail in The Bahamas. We also learned first hand about designing and maintaining boat systems.
After two years of learning what we needed, and what we wanted, we sold our Wildcat, and found a 50-foot ketch catamaran. She was not everything we wanted, but she was a solid base for building our dream boat. We found a boat yard in Spain to do the work, and had her re-built from the inside out. 
We removed the diesel engines and replaced them with electric motors and a battery bank. We removed the 2 mismatched 230 volt AC generators and replaced them with a pair of 48 volt DC generators. We removed the masts and had two new masts built and installed, changing it from a ketch to a staysail cutter. This now put four of our five sails on roller furling, and only a single mizzen sail to haul up and down. We changed the centre cabins to have two sets of bunk beds with the upper bunks being Pullman style, and the lower bunks converting to a desk and sofa. This allows us to use the rooms as a bunk room for 4, or as an office. Originally a 6 bathroom boat, we combined the two rear bathrooms into a single, larger bathroom with separate shower. This gave us 6 cabins (4 with king beds), 4 bathrooms, and a galley up in the large salon. With sleeping for 16 adults in the cabins, it can accommodate our 4 kids, with their spouses, and our grandchildren, and still have a spare cabin. The galley was rebuilt to be roomier, and accommodate an electric convection oven and induction range, removing the need for propane. Three fridge/freezers were installed with one in the galley, and one in each hull. An ice-maker was added for comfort, and a washer/dryer for convenience. Deep hulls provide plenty of storage, with enough room for an adult to easily lay down under the floorboards to be able to access maintenance work.
When it was finished, we spent the summer sailing in the Mediterranean, learning the boat and making adjustments as needed.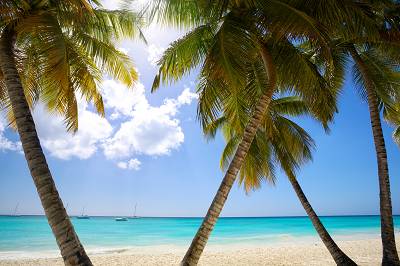 The Med can have some nasty winter storms, so as fall approaches, we sail through the Strait of Gibraltar to the Canary Islands, and across the Atlantic to spend the winters sailing through the Caribbean. Some years we head north and west, visiting Guadeloupe, Antigua and Barbuda, Montserrat, St. Kitts and Nevis, Anguilla, the British Virgin Islands, Dominican Republic, Cuba, Turks and Caicos, and The Bahamas. Other years we head south and explore Dominica, Martinique, St Lucia, St Vincent & The Grenadines, Barbados, and Grenada.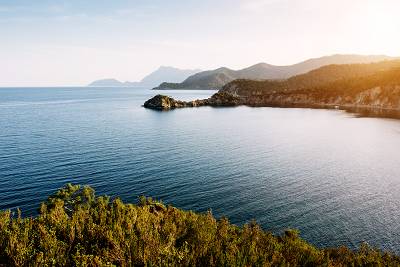 As spring approaches, with the threat of summer time Caribbean hurricanes, we head to Bermuda. From there we take the long sail to The Azores, before crossing back through the Strait of Gibraltar, to sail our summers in the Mediterranean. Heading north along the European coast brings you to Spain, France, Monaco, Italy, Croatia, Montenegro, Albania, Greece and Turkey. Visiting towns here with buildings that have stood since before Columbus discovered the Americas. Heading along the south shore takes you to Africa and timeless places like Morocco, Algeria, Tunisia, Libya, Egypt, and Israel. Here you are visiting towns and cultures that predate European history, taking you back thousands of years.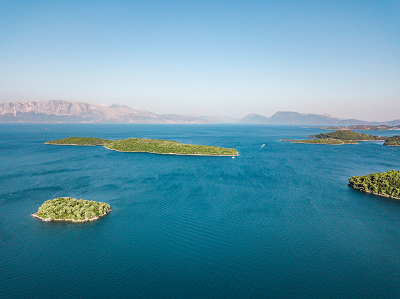 No matter which route you take there is a plethora of islands to visit. From the larger ones like the Balearic, Corsica, Sardinia, Sicily, Malta, Crete and Cyprus, to the nearly 200 scattered Dodecanese. Many of the smaller islands are uninhabited, with just you and a few birds to enjoy the silence of the wind and the waves.
The definition of freedom is multifaceted. It may seem attainable, yet it can prove to be an illusion or something that can be taken away. Once tasted, it can become addictive, driving one to crave more of it. There are numerous avenues to explore in the quest for freedom, whether it be heading westward, embarking on a hike through mountains, forests, or plains, or the ultimate quest of venturing out to sea. It is imperative to recognize that, regardless of how one interprets it, freedom is invaluable. Breaking free from limitations, be they self-imposed or imposed by others, grants the ability to wander unrestricted. It allows one to proclaim, "I am an individual, because this is the person I have chosen to become."
If you want to find out more about the choices we made for our boat, and why, read Our Bug-Out Boat and the Choices We Made.